Film Synopsis
CHILDREN OF ALL AGES is an amazing three-ringed documentary showcasing the most storied entertainment form in American history: the circus. The film premiered this April at the Sarasota Film Festival playing to sold out crowds and great reviews.
Ringling Bros. and Barnum & Bailey Performers
---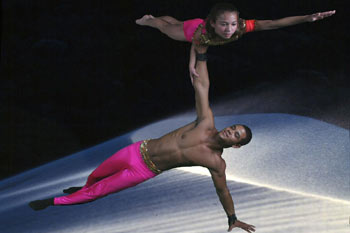 RING ONE: The Kids
Sailor Circus is America's longest-running children's circus featuring the talents of children ages eight to eighteen. These young performers train and perform in the circus arts beneath a three-ring-sized tent.
For 50 years, Sarasota served as the winter quarters for Ringling Bros. and Barnum & Bailey. The circus culture that once defined the sea-side town is renewed twice a year with two amazing professional-quality productions.
10,000 children have graduated from the Sailor Circus program. Almost all of them have worked directly with former circus professionals who volunteer as coaches.
Ringling Bros. and Barnum & Bailey Miniature Circus
---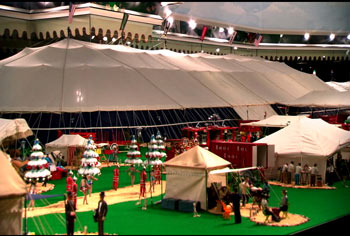 RING TWO: The Model
Howard Tibbals has spent more than 50 years building the world's LARGEST miniature circus. It is an amazing feat of human engineering and dedication. His indescribable model is built at ¾"-to-a-foot scale and measures an astonishing 3,800 square-feet. It stands as the definitive three-dimensional representation of the most renowned extravaganza, the Ringling Bros. & Barnum & Bailey Circus, during its Golden Era. The handcrafted tabletop tableau sports a million pieces including 1,500 performers, 200 animals, 152 wagons, and 7,000 folding chairs in the Big Top. The model's 450-foot perimeter (the length of 1½ football fields) is large enough to park 11 school buses.
Ringling Bros. and Barnum & Bailey Performers
---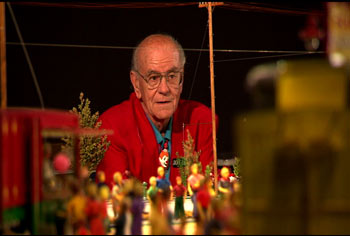 RING THREE: The Performers
CHILDREN OF ALL AGES features exclusive interviews with the greatest living Ringling Bros. and Barnum & Bailey's Big Top performers. Rare archives from their personal collections and from the circus museum add rich texture.
Acrobat Evi Kelly-Lentz, widow of the great hobo clown Emmett Kelly… Trapeze artist "Le Norma" Norma Fox star of the Oscar-winning epic, The Greatest Show on Earth…Aerialist Margie Geiger one of the last from the high-flying Wallenda family…Aurelia Nock an 8th generation circus performer and mother of Bello star of the current Ringling show…famed ringmaster and animal trainer John Herriott… elephant trainer extraordinaire William "Buckles" Woodcock. And last, but not least…Jackie LeClaire, the greatest living clown who, in his eighties, continues to perform.